Mobile lighting engineering laborathory
VNISI carries out the inspection of installations of lighting streets, roads and road tunnels in order to select the most effective solutions that combine high quality lighting, security, energy savings, economic feasibility and ease of use.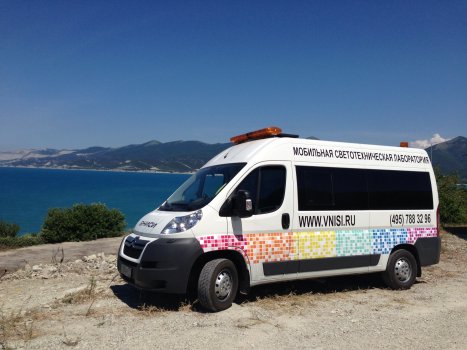 For checking the properties of the exterior lighting uses an unique mobile lighting laboratory, developed by the staff of the Institute. Mobile lighting laboratory of VNISI allows make measurement of all types of outdoor lighting installations, including the utilitarian, advertising, architectural, road and tunnel lighting.
Mobile lab are provide the following:
• easy-to-use software for recording of parameters (the width of the carriageway) and the lighting system (types of lighting, types and locations of supports and brackets);
• the possibility of documenting and recording of measurement data in real time;
• measurement of the average, maximum and minimum brightness and illumination of the road surface in order to verify their compliance.
Do you want to learn how to install outdoor lighting works effectively and in line with the requirements of the normative documentation? The easy, fast and accurate means to this end is the mobile laboratory VNISI. Only five steps away from getting the results of measurements in the form of a Protocol and an expert opinion:
1. you send a letter with the request in any form to the Director-General of VNISI and filled out an application for holding a mobile lighting laboratory measurements by means of the e-mail address This e-mail address is being protected from spambots. You need JavaScript enabled to view it or by the following address: 129626, Moscow, 1-St Rizhsky pereulok 6, OOO "VNISI";
2. our specialist will contact you to clarify the information indicated in the application, and then makes a calculation of the value of work and the contract, which sends you to the agreement;
3. the operator of mobile lighting lab will contact you and arrange the date of measurement;
4. within the agreed period you get mobile lighting laboratory of VNISI and conducts the necessary measuring 5. Within the time limit specified in the agreement, we prepare and give you the results in the form of protocols.